Cashless payment has long become one of the most popular payment methods, especially among young people.
We at dean&david are now going one step further and are already completely dispensing with the cash payment option in some of our stores. We have also taken this path consciously and after careful consideration.
Perhaps you have already been to a store that no longer accepts cash payments. We understand that the advantages are not immediately obvious to everyone. That's why we would like to show you our view of things and take you behind the counter at dean&david.
1. HYGIENE
Your health and the health of our staff is very important to us. By abolishing cash, we reduce the risk of infection, especially in times of pandemics. But apart from Corona, cashless payment is also a much more hygienic method of payment.
2. TRANSPARENCY
Cashless payment ensures maximum transparency – for the accounting in the store, for the treasury, and of course for you as a guest. Errors in the issuing of change are thus ruled out.
3. TIME SAVING
Less cash means less waiting time. And that in turn means: you have more time to enjoy, and we have even more time to cater to all your wishes without hurry! Sounds like a great deal, doesn't it?
4. SAFETY ASPECT
Where there is no cash, there is no money. In this way, you also protect our stores from potential criminals through cashless payment.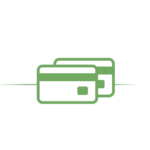 We hope you can now understand our perspective and see the difference you can make with a simple swipe of your debit card/xxx.
Did you know that you can pay in our stores not only with cash, but even contactless – no matter whether with a card or your smartphone. Try it out next time and enjoy the advantages!
Thank you for your understanding,
Your dean&david Team