We're setting new standards at dean&david
For real change and a better future.
Since our company was founded in 2007, it has been our mission to make the world a little bit better – by enabling more people to eat fresh, healthy and natural food while on the run. No flavour enhancers, colourings or preservatives.
Instead, we focus on healthy food and high-quality ingredients
for sustainable nutrition!
We stand for food and drinks,
› that not only taste great, but also feel great.
› that are made lovingly by hand – and that, on request, can be made exactly the way the customer wants it.
› that were created with the environment in mind and with the smallest-possible carbon footprint.
› that have been transported via the shortest possible distances and with maximum freshness.
› that place veganism and vegetarianism firmly in the spotlight.
› that are packaged in an environmentally friendly manner.
This is what we strive for. Every day. Every meal.

Real change for a better future.
CHANGE FOR BETTER.
With this philosophy, dean&david was launched by David Baumgartner in Munich in 2007 – a success story made in Germany. On a six-month trip around the world after graduating from university, David was inspired by his various favorite places: modern salad bars in New York, fresh juice and smoothie stores in Australia, or cookshops on the streets of Southeast Asia.
Back in Munich, David redefined fast food: healthy, fresh, sustainable. Starting in a small fresh food factory behind Munich's university, dean&david is now known beyond the borders of German-speaking countries.
In 2012, Simon Schrämli adopted the franchising in Switzerland and opened the first dean&david-store in Basel within the same year. Until 2017 a further three stores in Zürich, one in Zug and a second store in Basel were established. The expansion for Switzerland is currently under way. Since 2017 dean&david Switzerland is managed by Paul Elsmann and his young, dynamic team from the head office in Zürich.
At dean&david, we stand not only for uncompromising freshness but also for sustainable handling of raw materials, food and our environment.
We want to make the world a better place and have therefore been addressing the issue of sustainability in our company for years.
SUSTAINABILITY IN OUR STORES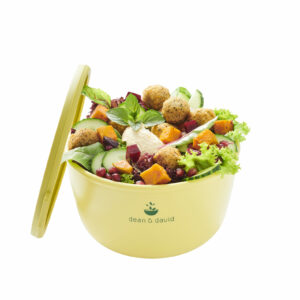 THE DEAN&DAVID REUSABLE BOX
Since 2007 you can enjoy your salad or bowl in our sustainable reusable box at dean&david. And the best thing: with every visit with our reusable box, a Basic Extra of your choice goes on us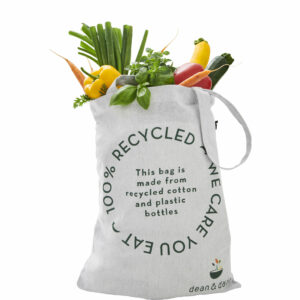 SUSTAINABLE DEAN&DAVID SHOPPER
Plastic bags are for losers. Recycled Plastic bags are for winners!
Get our new shopper now, 100% made from recycled raw materials, produced in a water and energy saving way and without additional chemicals
For many years now, you can enjoy our delicious juices, smoothies and coffees in 100% compostable paper cups or – in many stores – in reusable cups for a deposit.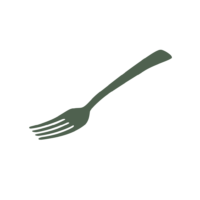 Many years before the ban on giving out single-use plastic, we banned plastic straws as well as cutlery from our stores and switched to a sustainable alternative made of wood for the latter./p>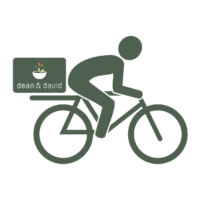 ENVIRONMENTALLY FRIENDLY DELIVERY
We also make our deliveries as sustainable as possible. That's why we usually deliver your order environmentally friendly by bike or e-car.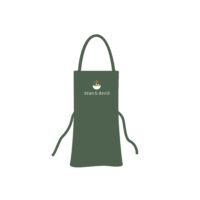 Sustainability is just as important to our employees as it is to us, which is why we equip all of our employees with recycled aprons, for example – and are gradually converting all of our workwear.